Workshop: Converging on Cancer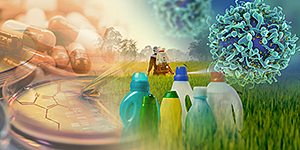 April 29-30, 2019
9 a.m. - 5 p.m. EDT
Location: William Jefferson Clinton East Building
U.S. Environmental Protection Agency, Washington, D.C.

Cancer is a leading cause of mortality worldwide. While the defining feature of cancer is uncontrolled division of abnormal cells, it is a complex disease with varied presentations (i.e., different etiologies and target tissues) that involves dysregulation of multiple interconnected signaling pathways. Diverse environmental factors have been associated with the development and progression of various cancer types. A critical question in the field of environmental health is how to harness what is known about cancer biology and associated environmental exposures to improve public health outcomes. The Converging on Cancer Workshop is aimed at providing a clear path forward for evaluating the interactions between environmental exposures and cancer biology using the latest tools in toxicology and identifying knowledge gaps that require research attention. Potential applications of this understanding include building a framework for incorporating mechanistic data into cancer risk assessment, developing effective screening tools to detect the carcinogenic potential of environmental chemicals (including mixtures), engineering safer products, and designing more effective multi-target therapeutics.
This free meeting is open to the public with attendance limited only by the space available. The meeting will consist of plenary sessions which will be webcast, breakout discussion sessions, and a poster session. The plenary sessions will be webcast but the breakout sessions and poster session will not be webcast.
Individuals who plan to attend in person or view the webcast must register on the NTP website (https://ntp.niehs.nih.gov/go/coc) by April 22, 2019. Learn the most current information about the meeting.
Register to Attend Apr. 22, 2019 is the deadline to register for in-person workshop attendance.
Register for Webcast Apr. 30, 2019 is the deadline to register for webcast attendance.
Submit a Poster Abstract March 31, 2019 is the deadline to submit an abstract (250 words or less) for a poster.
Note: There will be limited space for posters at the meeting. We will notify you of poster acceptance by April 8th.
Pre-Workshop Webinars
Prior to the Workshop, NTP will hold two informational webinars. The purpose of the webinars is to provide background information to workshop participants and facilitate productive discussions during the workshop. Registration for the Converging on Cancer Workshop (in person or webcast) is required for access to the pre-workshop webinars. The webinar dates and topics are:
April 17, 2019, 1-2 pm (Eastern): Cynthia Rider (NIEHS/NTP) "The Path to Converging on Cancer" and Glenn Rice (US EPA) "Cancer Risk Assessment for Chemical Mixtures at US EPA" [Video of the webinar will be available soon]
April 22, 2019, 12-1 pm (Eastern): Warren Casey (NIEHS/NTP) "Carcinogenicity Health Effects Innovation: Modernizing the NTP Approach for Assessing Carcinogenic Risk from Environmental Exposures" and Mark Fielden (Amgen) "The Key Characteristics of Carcinogens: Integration with the Hallmarks of Cancer and Assays and Biomarkers to Measure Them"
Request for Information (RFI) Input on Assays and Approaches for Evaluating Chemical Effects on Cancer Pathways
(Response period ending April 22, 2019)

Federal Register notice (PDF HTML)

Agenda

Flyer
---
Note: Individuals with disabilities who need accommodation must request it at least five business days prior to the meeting. TTY users should contact the Federal TTY Relay Service at 800-877-8339. Otherwise, contact Dr. Rider for assistance.
Contact information
For questions or additional information contact:
Toxicologist

530 Davis Dr

Durham, NC 27713

984-287-3175