Review Process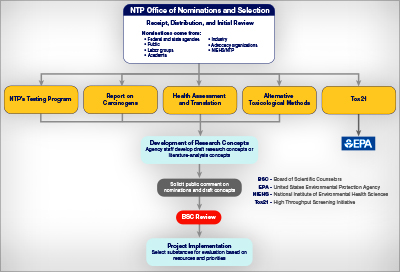 Click to Enlarge
The review and selection of substances and issues nominated for investigation is a multi-step evaluative process that provides NTP with direction and guidance to ensure that its testing program addresses toxicological concerns relative to all areas of public health.
Step 1: Receipt, Distribution, and Initial Review
Nominations are received from federal and state agencies, academia, industry, labor groups, advocacy organizations and the general public and reviewed by the NTP Office of Nominations and Selection to determine whether each substance has been adequately tested or has been previously considered by NTP.


Step 2: Internal Review
After completing an initial review, the Office of Nominations and Selection forwards nominated substances and literature-analysis comments to one of five activities:


Step 3: Development of Research Concepts
NTP staff develops draft research concepts or literature-analysis concepts outlining the nomination or study rationale, and the significance, approach, and expected outcome of a proposed research program tailored for each nomination.


Step 4: Public Comments
NTP solicits public comments on nominated substances and draft research concepts prior to sending nominations to the BSC for review.


Step 5: Board of Scientific Counselors Review
Nomination supporting documents, draft research concept documents, and any public comments received on the nominations are presented to the NTP Board of Scientific Counselors for review and comment in a public meeting. The Board provides independent advice to NTP on the merit and priority of proposed studies for each nomination, and may suggest additional studies as well as offer their perspective on issues raised by public comments.


Step 6: Project Implementation
Substances are selected for evaluation based on resources and priorities. Outputs may include:

Evaluation design
Evaluation conduct
Report preparation
Data release
Peer Review
Report publication