https://ntp.niehs.nih.gov/go/atwksp-2015
Alternative Approaches for Identifying Acute Systemic Toxicity: Moving from Research to Regulatory Testing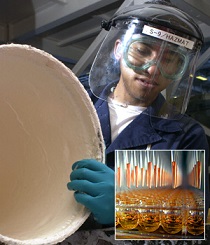 September 24-25, 2015
Porter Neuroscience Research Center
National Institutes of Health
Bethesda, Maryland, USA
Workshop report: Hamm et al. Alternative approaches for identifying acute systemic toxicity: moving from research to regulatory testing [published online ahead of print 6 January 2017]. Toxicol In Vitro.
Acute systemic toxicity tests are the most commonly performed type of safety test worldwide. At this workshop, over 60 representatives from regulatory agencies, academia and industry discussed the state of the science of alternatives to animal use for acute systemic toxicity testing and explored ways to facilitate their implementation.
Workshop attendees identified several resources as necessary for meaningful progress in identifying and implementing alternatives: high quality reference data, training on use and interpretation of computational approaches, and global harmonization of testing requirements. Attendees particularly noted the need to characterize variability in reference data being used to evaluate new approaches. NTP and NICEATM scientists plan to take a lead role in coordinating data collection from a number of sources identified during the workshop.
Workshop breakout groups explored different approaches to reducing or replacing animal use for acute toxicity testing, with each group crafting a roadmap and strategy for accomplishing this within a three-year timeframe. NICEATM will coordinate the creation of and provide support for a working group comprised of workshop participants that will be charged with implementing the strategies.
Presentations from the workshop are available below.
Federal Register notice announcing workshop — View as webpage
This workshop was cosponsored by NICEATM, the PETA International Science Consortium Ltd., and the Physicians Committee for Responsible Medicine.
---
Workshop Program
Session 1: The Regulatory Landscape: When Is Acute Toxicity Data Required and How Is It Used?
U.S. Consumer Product Safety Commission
Joanna Matheson, Ph.D., Directorate for Health Sciences, U.S. Consumer Product Safety Commission
Acute Toxicity Testing: Office of Pesticide Programs
Elissa Reaves, Ph.D., Office of Pesticide Programs, U.S. Environmental Protection Agency (EPA)
Requirements and Evaluation of Toxicity Testing in the TSCA New Chemicals Program
Louis Scarano, Ph.D., Office of Pollution Prevention and Toxics, EPA
Session 2: State of the Science for Acute Toxicity Testing Methods
Alternative Methods for Acute Systemic Toxicity Testing
Rabea Graepel, Ph.D., Systems Toxicity Unit, European Union Reference Laboratory for Alternatives to Animal Testing
From QSAR to Big Data: Developing Mechanism-Driven Predictive Models for Animal Toxicity
Hao Zhu, Ph.D., Department of Chemistry, Rutgers University–Camden
Biokinetic Considerations in the Use of In Vitro Systems for Estimating Acute (Systemic) Toxicity
Bas Blaauboer, Institute for Risk Assessment Sciences, Utrecht University
NRC Report: Application of Modern Toxicology Approaches for Predicting Acute Toxicity for Chemical Defense
David Dorman, D.V.M., Ph.D., Department of Molecular Biosciences, North Carolina State University
Session 3: Case Studies
Vision for Animal-free Pesticide Formulation Assessments
Sean Gehen, Ph.D., Dow AgroSciences LLC
Predicting Acute Toxicity Hazard in the Absence of Experimental Data: Case Studies from the Alternatives Assessment Paradigm
Jay Tunkel, Ph.D., SRC, Inc.
Zebrafish Models for Human Organophosphorus Poisoning
Natàlia Garcia-Reyero, Ph.D., U.S. Army Engineer R&D Center, U.S. Army Corps of Engineers
Session 4: Looking Ahead: Mechanisms and Adverse Outcome Pathways
Mechanisms of Acute Toxicity
Dan Wilson, Ph.D., The Dow Chemical Compnay
Computationally Predicted AOPs
Shannon Bell, Ph.D., Integrated Laboratory Systems, Inc.
High-throughput In Vitro Assays at NCATS
Menghang Xia, Ph.D., Division of Preclinical Innovation, National Center for Advancing Translational Sciences