Workshop on Alternatives to the HIST: November 2012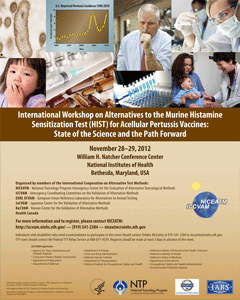 November 28-29, 2012
William H. Natcher Conference Center
U.S. National Institutes of Health
Bethesda, Maryland, USA
Pertussis, also known as whooping cough, is a highly contagious disease caused by the bacterium Bordetella pertussis. Pertussis was one of the most common childhood diseases of the early 20th century and was once a major cause of childhood mortality in the United States. A whole-cell vaccine introduced in the 1940s reduced the incidence of pertussis by more than 80%. Acellular pertussis (aP) vaccines, which became available in the 1980s, were developed in response to public concern with some common side effects (e.g., fever, swelling at injection site) and rare serious events that coincided with the use of whole-cell pertussis vaccines. These new generation aP vaccines contain different combinations of the putative protective antigens of B. pertussis bacteria (e.g., inactivated pertussis toxin [PTx/d], pertactin, and fimbriae) and are less reactogenic than whole-cell vaccines.
Regulatory authorities require safety, potency, and purity testing prior to the release of each production lot of pertussis or pertussis antigen-containing vaccines. The murine histamine sensitization test (HIST) is a key safety test used to monitor residual levels of pertussis toxin in acellular pertussis vaccines. This test is performed to ensure that pertussis toxin has been effectively inactivated before release of vaccines. However, such testing may involve large numbers of mice, some of which can experience significant unrelieved pain and distress. In addition, the HIST has technical challenges requiring frequent retesting, thereby increasing vaccine testing expense and animal usage.
An international workshop organized in 2010 by NICEATM, ICCVAM, and their international partners identified the HIST as a priority for future research, development, and validation of alternative test methods that could further reduce, refine (enhance animal well-being and lessen or avoid pain and distress), or replace animal use for acellular pertussis vaccine safety testing. Two international workshops held in June and August 2011 reviewed currently available alternative in vitro assays to the HIST and discussed a path forward to achieve their validation and adoption. The June 2011 workshop established the International Working Group on Alternatives to the HIST to coordinate future studies on relevant alternative methods. Participants at the August 2011 workshop further discussed and clarified regulatory agency requirements to achieve the acceptance of alternative methods to the HIST and agreed that conducting a study using spiked vaccines to compare the sensitivities of the HIST and in vitro assays would be important.
This workshop provided a forum to discuss and review the in vitro protocols and available data from the International Working Group for Alternatives to HIST study and suggested future collaborative projects using prepared materials. The workshop participants also reviewed additional new methods and approaches for aP vaccine safety testing that should improve test accuracy, precision, and efficiency while also reducing or replacing the use of animals in vaccine safety testing. Finally, the workshop participants discussed the path toward global validation, acceptance, and implementation of scientifically valid alternative methods for aP vaccines.
The European Union Reference Laboratory for alternatives to animal testing and the International Alliance for Biological Standardization were sponsors of the 2012 workshop. A workshop to review data from follow-up studies will be held in London, England, in 2015 and will be organized by the National Centre for the Replacement, Refinement and Reduction of Animals in Research with support from NICEATM.
Information About Related Lectures

Evaluation of Humane Endpoints for Pertussis Vaccine Safety Testing
November 27, 2012, 2:00-4:00 p.m. - William H. Natcher Conference Center
View flyer for lectures

Presentations

Welcoming Remarks and Introduction
William Stokes, DVM, RADM, USPHS, NIEHS/NICEATM

Highly Sensitive Histamine-Sensitization Test for Residual Activity of Pertussis Toxin In Acellular Pertussis Vaccine Using Body Temperature Monitoring
Masaki Ochiai, PhD, National Institute of Infectious Diseases, Japan

In Search of a Humane Endpoint for the Histamine Sensitization Assay
Juan Arciniega, DSc, CBER, U.S. FDA
Note: At the speaker's request, this presentation is not available for public viewing and/or distribution. We apologize for the inconvenience.
Related Information

News article: "CDC: Whooping Cough Epidemic Worst in 50 Years " — NBC News, July 19, 2012

The incidence of pertussis is on track to set a record high in the U.S. this year, according to Dr. Anne Schuchat, director of the National Center for Immunization and Respiratory Diseases at the Centers for Disease Control and Prevention. Of particular concern is an outbreak in Washington state resulting in over 3,000 cases so far this year.
ICCVAM International Workshop on Alternative Methods to Reduce, Refine, and Replace the Use of Animals in Vaccine Potency and Safety TestingDr. Schuchat, who is an Assistant Surgeon General, was keynote speaker at the 2010

News article: "Whooping Cough Vaccine Offered for Free" — Burlington (NC) Times-News, June 24, 2012

A sharp increase in the number of pertussis cases has prompted the North Carolina Department of Health and Human Services to offer free vaccinations. Alamance County in central North Carolina has recorded 122 cases of pertussis since last December, as compared to 126 cases statewide in all of 2011.