ICCVAM Public Forum: May 2015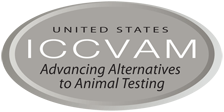 May 27, 2015 — 9:00 A.M. - 12:00 P.M.
Conference Room D, William H. Natcher Conference Center, National Institutes of Health
Bethesda, Maryland, USA
Read about the Public Forum in the July 2015 NIEHS Environmental Factor newsletter
View recording of the Public Forum webcast(NIH VideoCasting website; runtime 2:57:07)
View correction to Dr. Carol Clarke's (USDA) remarks about the NIH Office of Laboratory Animal Welfare Annual Report
ICCVAM's goals include promotion of national and international partnerships between governmental and nongovernmental groups, including academia, industry, advocacy groups, and other key stakeholders. To foster these partnerships, ICCVAM holds annual public forums to share information and facilitate direct communication of ideas and suggestions from stakeholders.
This year's forum began with presentations by NICEATM and ICCVAM members on current activities related to the development and validation of alternative test methods and approaches that may replace, reduce, or refine animal use. These included methods for assessing acute systemic toxicity, endocrine activity, vaccine safety, and skin sensitization potential. The agenda included time for attendees to make public oral statements to inform ICCVAM on topics relevant to its mission and current activities.
Presentations
ICCVAM and NICEATM Updates
Agency Updates
Public Comments
Additional Information
Federal Register notice announcing meeting (Apr. 14, 2015) — View notice as webpage
Meeting attendees were asked to consider addressing the following discussion questions in their statements:
Do you have suggestions for how best to track progress towards replacement, reduction, and refinement of animal use for safety testing?
Are there specific activities or areas on which you would like to see more focus from ICCVAM?