Workshop: Predictive Models for Acute Oral Systemic Toxicity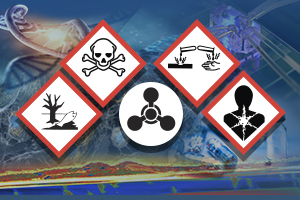 April 11, 2018, 9:00 a.m.-5:00 p.m.
April 12, 2018, 8:30 a.m.-3:00 p.m.
William H. Natcher Conference Center
National Institutes of Health Bethesda, Maryland, USA
Register to attend the workshop in person: register by April 6

Register to view the webcast
Registration available through the end of the workshop
Preliminary agenda (March 20)
The development of test methods that reduce or replace animal use for acute toxicity tests required by regulatory authorities is one of ICCVAM's high priority activities. To this end, the ICCVAM Acute Toxicity Workgroup, with support from NICEATM, sponsored a global project to develop in silico models of acute oral systemic toxicity that predict five specific endpoints identified by member regulatory agencies. These endpoints included identification of "very toxic" chemicals (LD50 less than 50 mg/kg), "nontoxic" chemicals (LD50 greater than or equal to 2000 mg/kg), point estimates for LD50s, and categorization of toxicity hazard using the U.S. Environmental Protection Agency and United Nations Globally Harmonized System of Classification and Labelling classification schemes.
NICEATM invited scientists to develop and submit in silico models that predict any or all of these endpoints. This workshop will provide an opportunity for project participants to present their submitted models. Workshop participants will also discuss developing a consensus model that integrates the submitted models to predict acute oral toxicity, as well as next steps needed to encourage appropriate use of these models in regulatory contexts.
Workshop Information
The workshop is open to the public, free of charge, with attendance limited only by space available. Individuals planning to attend the workshop in person should register by April 6. Walk-in registration will only be available as space permits. Those attending in person should review information for visitors on the National Institutes of Health website.
Webcast viewing will be offered free of charge for all plenary presentation sessions. Registration to view the webcast is required and will be available through the end of the workshop.
Individuals with disabilities who need accommodation to participate in this event should contact Dr. Elizabeth Maull at telephone: (984) 287–3157 or email: maull@niehs.nih.gov. TTY users should contact the Federal TTY Relay Service at (800) 877–8339. Requests should be made at least five business days in advance of the event.
Federal Register notice announcing the workshop (February 22, 2018) - View notice as webpage
Materials for Workshop Participants
Groups that have submitted models have been selected for platform and poster presentations. Information for preparation of these materials is provided below. This information is meant to provide some guidance and is not intended to be restrictive or prescriptive. Breakout group topics identified by the Workshop Organizing Committee are also provided.
Guidelines for Platform Presentations Describing In Silico Approaches
Guidelines for Platform Presentations Describing End User Applications