ICCVAM Annual and Biennial Reports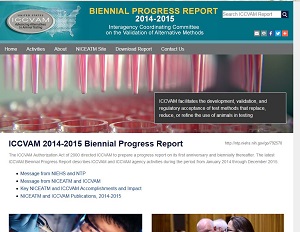 The ICCVAM Authorization Act of 2000 directed ICCVAM to prepare a progress report on its first anniversary and every other year thereafter. The latest ICCVAM Biennial Progress Report describes ICCVAM and ICCVAM agency activities from January 2014 through December 2015.
The report highlights ICCVAM member agency supporting toxicology innovation, as well as regulatory agency initiatives to promote the 3Rs (replace, reduce, or refine animal use) and to provide information about the use of in vitro methods. Key ICCVAM, ICCVAM agency, and NICEATM accomplishments summarized in the report include:
A computational approach developed by ICCVAM that combines several types of data to predict human skin sensitization risk without using animals.
A U.S. Environmental Protection Agency (EPA) plan to adopt high-throughput tests and computational models for detecting and measuring estrogen receptor bioactivity. These tests provide an alternative for three tests currently included in Tier 1 of the Endocrine Disruptor Screening Program.
A new ICCVAM Communities of Practice webinar series.
A NICEATM evaluation of acute oral and dermal toxicity data to determine if oral toxicity tests are sufficient to assign EPA dermal hazard classifications, eliminating the need for separate acute dermal toxicity tests.
A series of workshops supported by NICEATM and ICCVAM agencies that drafted recommendations on the use of an in vitro test with the potential to replace animal use for pertussis vaccine testing.
Past ICCVAM Reports (2001-2013)