BG1Luc Background Review Document Annexes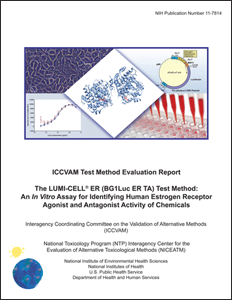 ICCVAM Test Method Evaluation Report
The LUMI-CELL® ER (BG1Luc ER TA) Test Method: An In Vitro Assay for Identifying Human Estrogen Receptor Agonist and Antagonist Activity of Chemicals
NIH Publication No. 11-7850
Please note: Large files may take some time to download: times will vary based on the speed of the online connection.
Return to Test Method Evaluation Report page
---
Annex C: NICEATM Report on the XDS Protocol Standardization Study Agonist and Antagonist Protocols
Annex G: Materials Relating to Cell Viability
Annex H: ICCVAM/NICEATM BG1Luc4E2 ER TA – Validation Work Plan
Annex I: Substances Used for the Validation of the BG1Luc ER TA Test Method
Annex J: Prism Files for All Validation Study Phases
Graphs ("PZF" files) may be viewed using GraphPad Prism® or Prism® viewer software. The Prism® viewer software is a free download available at the GraphPad website.
Annex K: Experimental Details
Annex M: Plate Redesign and Compilation of Historical Database
Annex N: Literature Update Files