Test Method Evaluation Report: Applicability Domain for the LLNA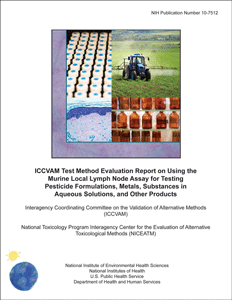 ICCVAM Test Method Evaluation Report on Using the Murine Local Lymph Node Assay for Testing Pesticide Formulations, Metals, Substances in Aqueous Solutions, and Other Products
NIH Publication No. 10-7512
Complete report (26.2 Mb - revised May 2012)
Please note: The complete report is a large document and may take a few moments to download. It may also not be accessible to readers using assistive technologies. Viewing the individual sections below may be faster and provide improved accessibility.
---
Appendix D Corrections: May 2012
The corrected annexes are included in the PDF sections below and in the complete report linked above.
---
Report Main Body
Front matter
Includes Table of Contents, Lists of Tables and Figures, List of Abbreviations and Acronyms, Acknowledgements, Preface, and Executive Summary
Section 1: Introduction
Section 2: ICCVAM Recommendations for the Updated Assessment of the Validity of the LLNA for Testing Pesticide Formulations, Metals, Substances in Aqueous Solutions, and Other Products
Section 3: Evaluation of the LLNA Applicability Domain
Section 4: ICCVAM Consideration of Public and SACATM Comments
Main Body
Annex I: An Approach to Dissection and Identification of the Draining ("Auricular") Lymph Nodes
Annex II: An Example of How to Reduce the Number of Animals in the Concurrent Positive Control Group of the Local Lymph Node Assay
Annex III: Evaluating Local Irritation and Systemic Toxicity in the Local Lymph Node Assay
Annex I: Data for Substances Tested in the LLNA in CBA and BALB/c Mice
Appendix D: Final Assessment of the Validity of the LLNA for Pesticide Formulations, Metals, Substances in Aqueous Solutions, and Other Products
2010 Addendum to NIH Publication No. 99-4494: The Murine Local Lymph Node Assay (LLNA): A Test Method for Assessing the Allergic Contact Dermatitis Potential of Chemicals and Products
Main body

Front matter: Includes Table of Contents, Acknowledgements, Preface, and Executive Summary
Section 1: Introduction
Section 2: Substances Used for the Revised Evaluation of the Applicability Domain for the LLNA
Section 3: Comparative In Vivo Reference Data
Section 4: LLNA Data and Results
Section 5: Accuracy of the LLNA: Revised Applicability Domain
Section 6: LLNA Data Quality
Section 7: Other Scientific Reports and Reviews
Section 8: References
Section 9: Glossary

Annex I: The Murine Local Lymph Node Assay (LLNA): A Test Method for Assessing the Allergic Contact Dermatitis Potential of Chemicals/Compounds (NIH Pub. No. 99-4494)
Annex II: Available Data and Information for Pesticide Formulations and Other Products Tested in the LLNA
Annex III: Available Data and Information for Metals Tested in the LLNA
Annex IV: Available Data and Information for Substances in Aqueous Solutions Tested in the LLNA
Annex V: Supplementary Analysis of Pesticide Formulations in the LLNA
Appendix E: Independent Scientific Peer Review Panel Assessment
Appendix F: Federal Register Notices and Public Comments
Appendix F1: Federal Register Notices
Appendix F2: Public Comments Received in Response to Federal Register Notices

Responses to 73 FR 29136 (no responses received)
Responses to 73 FR 25754 (no responses received)
Responses to 73 FR 29136 (no responses received)
Responses to 74 FR 19562 (no responses received)

Appendix F3: SACATM Comments: SACATM Meeting on June 18-19, 2008
Please contact NICEATM to obtain this document
Appendix F4: SACATM Comments: SACATM Meeting on June 25-26, 2009
Download minutes of the SACATM meeting from the NTP website
Appendix G: Relevant Skin Sensitization Regulations and Testing Guidelines