Development of Performance Standards for the LLNA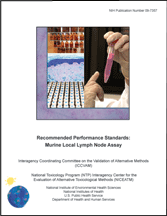 Recommended Performance Standards: Murine Local Lymph Node Assay (January 2009)
Please Note: A correction has been made to NIH Publication No. 09-7357 (hard copy). This correction is for one of the performance standards reference substances and affects the content of Appendices E and F.
Correction to Performance Standards document (August 2010)
Table of Contents in webpage format
In cooperation with international partners, ICCVAM developed and published recommended performance standards for the LLNA in 2009. These performance standards represent a set of internationally harmonized standards for the conduct of the LLNA.
Before a new test method is accepted for regulatory testing applications, validation studies are conducted to assess its reliability and relevance. Performance standards communicate the basis by which new test methods are determined to have sufficient accuracy and reliability for a specific testing purpose. These performance standards can then be used to evaluate the accuracy and reliability of other proposed test methods that are considered functionally and mechanistically similar to the accepted test method.
Background

When ICCVAM first evaluated the LLNA in 1999, the concept of performance standards had not been developed. ICCVAM subsequently defined performance standards and described a process for their development in its revised Guidelines for the Nomination and Submission of New, Revised, and Alternative Test Methods, published in 2003.

In 2007, the CPSC asked ICCVAM and NICEATM to evaluate the scientific validity of nonradioactive versions of the LLNA. The traditional LLNA measures the incorporation of radioactivity in the draining auricular lymph nodes. In order to more rapidly and efficiently determine the validity of these and other modified versions of the LLNA, ICCVAM developed a set of performance standards.

Draft LLNA performance standards, along with ICCVAM evaluations of other new versions and applications of the LLNA, were reviewed by an independent scientific peer review panel in March 2008.

Peer review panel report (May 2008)

Peer review panel meeting agenda
Revision to OECD Test Guideline 429

NICEATM and the ICCVAM interagency Immunotoxicity Working Group subsequently developed a revision OECD Test Guideline 429, "Skin Sensitization: Murine Local Lymph Node Assay." The revised Test Guideline 429, adopted by OECD in 2010, incorporates the harmonized performance standards and includes the updated protocol for the LLNA from the ICCVAM performance standards document. The updated protocol allows for a 20% reduction in animal use when compared to the original.
Transmittal of Recommendations to Federal Agencies

National Institute of Environmental Health Sciences (NIEHS)
Agency for Toxic Substances and Disease Registry (ATSDR)
Consumer Product Safety Commission (CPSC)
Environmental Protection Agency (EPA)
Food and Drug Administration (FDA)
National Cancer Institute (NCI)
National Institutes of Health (NIH)
National Institute for Occupational Safety and Health (NIOSH)
National Library of Medicine (NLM)
Occupational Safety and Health Administration (OSHA)
U.S. Department of Agriculture
U.S. Department of Defense
U.S. Department of Energy
U.S. Department of the Interior
U.S. Department of Transportation