Medicines and Therapeutics Research: Hydroxyurea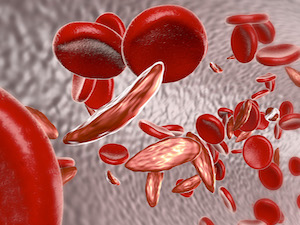 Hydroxyurea is a pharmaceutical that was originally approved for use in cancer chemotherapy and, in addition, is currently used for treatment of sickle cell anemia and other rare, serious diseases. Though not labeled for use in children with sickle cell anemia, clinical trials in infants and children has shown efficacy in preventing vaso-occlusive crises, a common complication of sickle cell anemia. Furthermore, off-label use in infants, children and pregnant women with sickle cell anemia is increasing.
Published reports indicate that use of hydroxyurea can cause DNA damage and induce certain cancers. Limited human and animal data also indicate adverse effects on reproduction in males. Hydroxyurea has also been shown to cause birth defects. In 2008, NTP published a NTP-CERHR Monograph on hydroxyurea that evaluated effects on reproduction and development. New studies have noted the importance of reviewing chronic use. NTP is conducting studies to determine the potential effect of chronic hydroxyurea exposure during periods of critical development ranging from gestational exposure through adolescence. The results of these studies can inform regulatory agencies and contribute to risk-benefit decision making and patient counseling.