NTP Synthetic Turf/Recycled Tire Crumb Rubber Research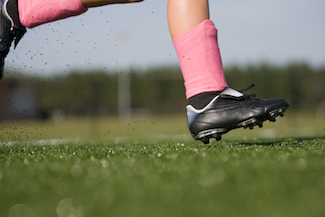 Synthetic or artificial turf is a surface of artificial fibers and other components made to look like natural grass. It is used in professional sports stadiums and increasingly at recreational athletic fields and on playgrounds. Since its introduction in the 1960s, the use of synthetic turf has grown. Today in the U.S., over 11,000 synthetic turf fields are in use.
In a synthetic turf field, infill materials are spread between the "grass" fibers to provide cushioning and traction. The infill typically consists of "crumb rubber"—shredded rubber particles made from recycled automotive tires—often mixed with sand.
In recent years, the use of tire crumb rubber infill has led to public concern for potential health risks. As athletes and children dive and play on synthetic turf surfaces, crumb rubber particles have been found to cling to clothing, hair, and skin. This could lead to breathing, unintentionally ingesting, and skin contact with tire crumb or chemicals that may leach out of the crumb rubber.