Alternative Animal Models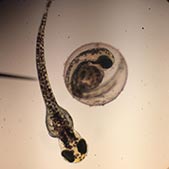 Study Overview
Study: Alternate test systems, genetically modified models, microarray, short-term toxicity, long-term carcinogenicity
Species: Rats, mice, fish
Description
NTP implements a variety of testing strategies to acquire scientific information about potentially hazardous environmental and occupational substances. These strategies provide additional or more accurate information, strengthen the science base, and inform regulatory decisions. NTP's efforts are focused on the development of new alternative test systems for toxicological research that will reduce, replace, or refine animal use.
Model systems under development include:
Computer-based predictive toxicology models
Genetically engineered in vitro cell systems
Microchip array technology
Non-mammalian species
Transgenic species
In addition, through the Interagency Coordinating Committee on the Validation of Alternative Methods (ICCVAM), a concerted and coordinated federal effort is being made to identify, validate, and promote regulatory acceptance of alternative test systems. University-based researchers are also involved in this alternative methods development and validation through the NIEHS/NIH extramural grants program.
Genetically Modified Models
Genetically altered mice carry activated oncogenes or inactivated tumor suppressor genes known to be involved in neoplastic processes both in humans and rodents. This trait may allow them to respond to carcinogens more quickly and could improve the accuracy and effectiveness of experiments designed to determine the carcinogenic potential of substances.
Abstracts & Reports
Note on Accessibility: Persons with disabilities or using assistive technology may find some documents are not fully accessible. For assistance, contact CDM (or use our contact form) and identify the documents/pages for which access is required. We will assist you in accessing the content of these files. NIEHS has helpful information on accessibility.
How to search with filtering and sorting

Search for particular reports by filtering or searching the table. As you type in the search box, the page will filter the table results as you type each letter.

Sort by clicking the up or down arrow in a column header. Click again to reverse the order. If only one arrow is displayed, that column is sorted in the direction of the arrow. Only one column can be sorted at a time.
Listing of all NTP study abstracts and reports
Abstract
Full Text
Report Title
Report Year
Type
GMM-01
PDF

(1MB)

Toxicology Studies of Aspartame (CASRN 22839-47-0) in Genetically Modified (FVB Tg.AC Hemizygous) and B6.129-Cdkn2atm1Rdp (N2) Deficient Mice and Carcinogenicity Studies of Aspartame in Genetically Modified [B6.129-Trp53tm1Brd (N5) Haploinsufficient] Mice (Feed Studies)
2005
Genetically Modified Models
GMM-02
PDF

(2MB)

Toxicity Studies of Acesulfame Potassium (CAS No. 55589-62-3) in FVB/N-TgN(v-Ha-ras)Led (Tg.AC) Hemizygous Mice and Carcinogenicity Studies of Acesulfame Potassium in B6.129-Trp53tm1Brd (N5) Haploinsufficient Mice (Feed Studies)
2005
Genetically Modified Models
GMM-03
PDF

(7MB)

Toxicology Studies of Trimethylolpropane Triacrylate (Technical Grade) (CASRN 15625-89-5) in F344/N Rats, B6C3F1 Mice, and Genetically Modified (FVB Tg.AC Hemizygous) Mice (Dermal Studies)
2005
Genetically Modified Models
GMM-04
PDF

(5MB)

Toxicology Studies of Pentaerythritol Triacrylate (Technical Grade) (CASRN 3524-68-3) in F344/N Rats, B6C3F1 Mice, and Genetically Modified (FVB Tg.AC Hemizygous) Mice (Dermal Studies)
2005
Genetically Modified Models
GMM-05
PDF

(2MB)

Toxicology Studies of Bromodichloromethane (CASRN 75-27-4) in Genetically Modified (FVB Tg.AC Hemizygous) Mice (Dermal, Drinking Water, and Gavage Studies) and Carcinogenicity Studies of Bromodichloromethane in Genetically Modified [B6.129-Trp53tm1Brd (N5) Haploinsufficient] Mice (Drinking Water and Gavage Studies)
2007
Genetically Modified Models
GMM-06
PDF

(999KB)

Toxicology Studies of Sodium Bromate (CASRN 7789-38-0) in Genetically Modified (FVB Tg.AC Hemizygous) Mice (Dermal and Drinking Water Studies) and Carcinogenicity Studies of Sodium Bromate in Genetically Modified [B6.129-Trp53tm1Brd (N5) Haploinsufficient] Mice (Drinking Water Studies)
2007
Genetically Modified Models
GMM-07
PDF

(1MB)

Toxicology Studies of Allyl Bromide (CASRN 106-95-6) in Genetically Modified (FVB Tg.AC Hemizygous) Mice and Carcinogenicity Studies of Allyl Bromide in Genetically Modified [B6.129-Trp53tm1Brd (N5) Haploinsufficient] Mice (Dermal and Gavage Studies)
2008
Genetically Modified Models
GMM-08
PDF

(1MB)

Toxicology and Carcinogenesis Study of Benzene (CASRN 71-43-2) in Genetically Modified Haploinsufficient p16Ink4a/p19Arf Mice (Gavage Study)
2007
Genetically Modified Models
GMM-09
PDF

(1MB)

Toxicology Studies of Dicyclohexylcarbodiimide (CASRN 538-75-0) in F344/N Rats, B6C3F1 Mice, and Genetically Modified (FVB Tg.AC Hemizygous) Mice and Carcinogenicity Study of Dicyclohexylcarbodiimide in Genetically Modified [B6.129-Trp53tm1Brd (N5) Haploinsufficient] Mice (Dermal Studies)
2007
Genetically Modified Models
GMM-10
PDF

(312KB)

Toxicology Study of Diispropylcarbodiimide (CASRN 693-13-0) in Genetically Modified (FVB Tg.AC Hemizygous) Mice and Carcinogenicity Study of Diispropylcarbodiimide in Genetically Modified [B6.129-Trp53tm1Brd (N5) Haploinsufficient Mice (Dermal Studies)
2007
Genetically Modified Models
GMM-11
PDF

(1MB)

Toxicology Studies of Dichloroacetic Acid (CASRN 79-43-6) in Genetically Modified (FVB Tg.AC Hemizygous) Mice (Dermal and Drinking Water Studies) and Carcinogenicity Studies of Dichloroacetic Acid in Genetically Modified [B6.129-Trp53tm1Brd (N5) Haploinsufficient Mice (Drinking Water Studies)
2007
Genetically Modified Models
GMM-12
PDF

(739KB)

Toxicology and Carcinogenesis Study of Phenolphthalein (CASRN 77-09-8) in Genetically Modified Haploinsufficient p16Ink4a/p19Arf Mice
2007
Genetically Modified Models
GMM-13
PDF

(824KB)

Toxicology and Carcinogenesis Study of Glycidol (CASRN 556-52-5) in Genetically Modified Haploinsufficient p16Ink4a/p19Arf Mice (Gavage Study)
2007
Genetically Modified Models
GMM-14
PDF

(3MB)

Toxicology and Carcinogenicity Studies of 3'-Azido-3'-Deoxythymidine (CASRN 30516-87-1) in Genetically Modified C3B6.129F1-Trp53tm1Brd N12 Haploinsufficient Mice (In utero and Postnatal Gavage Studies)
2013
Genetically Modified Models
GMM-15
PDF

(4MB)

Toxicology Study of Senna (CASRN 8013-11-4) in C57BL/6NTac Mice and Toxicology and Carcinogenesis Study of Senna in Genetically Modified C3B6.129F1/Tac-Trp53tm1Brd N12 Haploinsufficient Mice (Feed Studies)
2012
Genetically Modified Models
GMM-16
PDF

(5MB)

Toxicology and Carcinogenicity Study of Mixtures of 3'-Azido-3'-Deoxythymidine (AZT), Lamivudine (3TC), and Nevirapine (NVP) (CASRNs 30516-87-1, 134678-17-4, 129618-40-2) in Genetically Modified C3B6.129F1-Trp53tm1Brd N12 Haploinsufficient Mice (In Utero and Postnatal Gavage Studies)
2013
Genetically Modified Models