Parkinson's Disease: Associations with Environmental Exposures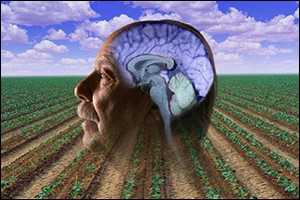 Topic Overview
Status: Topic under evaluation
Background Information
Parkinson's disease is a group of motor system disorders including tremor of the extremities, rigidity of the limbs and body, slowness of movement (bradykinesia), and impaired balance and coordination (postural instability). These motor deficits are due to the progressive degeneration of brain cells called dopaminergic neurons within the basal ganglia and substantia nigra. As more dopaminergic neurons are lost, the symptoms of Parkinson's disease worsen over time, and may lead to further effects on health such as difficulty speaking, sleep disorders, and depression. Although a low percentage of Parkinson's disease cases can be attributed to genetic factors, the causes of many cases remain unknown. A growing number of studies have reported that certain environmental exposures may be associated with Parkinson's disease or mechanisms suspected or known to lead to Parkinson's disease.
NTP is conducting two scoping reviews on this topic. The first project is a scoping review to systematically map the evidence of the associations between exposures to environmental chemicals considered broadly and Parkinson's disease. During scoping activities, the environmental chemical paraquat dichloride was identified as a chemical of interest for further review. Paraquat is an herbicide that is used to control weeds in a variety of agricultural and non-agricultural settings. Hundreds of studies have investigated the link between paraquat exposure and Parkinson's disease. Therefore, the second project is a more detailed scoping review and systematic evidence mapping of the association between paraquat exposure and Parkinson's disease. The protocol for the systematic evidence mapping of the association between paraquat exposure and Parkinson's disease is presented below.
Documents
Documents for Parkinson's Disease

| Date | Document |
| --- | --- |
| May 01, 2018 | NTP Protocol |
Note on Accessibility: Persons with disabilities or using assistive technology may find some documents are not fully accessible. For assistance, email us or use our contact form and identify the documents/pages for which access is required. We will assist you in accessing the content of these files. NIEHS has helpful information on accessibility.