ICCVAM Public Forum: May 2020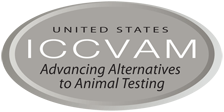 Webcast: May 21, 2020

Draft agenda (updated May 19)
ICCVAM's goals include promotion of national and international partnerships between governmental and nongovernmental groups, including academia, industry, advocacy groups, and other key stakeholders. To foster these partnerships ICCVAM holds annual public forums to share information and facilitate direct communication of ideas and suggestions from stakeholders.
This year's meeting will be held on May 21, 2020. Due to restrictions on in-person gatherings amid ongoing public health concerns, the public forum will be presented via webcast only. NICEATM and ICCVAM members will give presentations on current activities related to the development and validation of alternative test methods and approaches, including activities relevant to implementation of the strategic roadmap for establishing new approaches to evaluate the safety of chemicals and medical products in the United States.
Registration for the webcast is required and will be open through the end of the meeting; use the link above to register. There will be opportunities for registered participants to ask clarifying or follow-up questions of the ICCVAM members about their presentations. Instructions for submitting these questions will be provided via email prior to the webcast.
Public Comments