Medicines & Therapeutics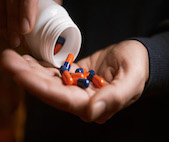 Research Overview
Status: Ongoing
Substances: Codeine, Phenolphthalein, Emodin, Emtricitabine (FTC), Tenofovir, 2',3'-Dideoxycytidine, Oxymetholone, AZT transplacental carcinogenesis study, Endocrine disruptor (Ethinyl estradiol), AZT+3TC+NVP combination, Phenobarbital, AZT + Pyrazinamide combination (AIDS Initiative), Promethazine hydrochloride, Efavirenz (EFV), AZT/Drug Combinations Transplacental Carcinogenesis Study, Interferon AD + 3'-azido-3'-deoxythymidine (AIDS Initiative), Hydroxyurea, Salicylazosulfapyridine, Scopolamine hydrobromide trihydrate, Methylene blue trihydrate, 3'-Azido-3'-deoxythymidine (AIDS), AZT + Rifampin (AIDS Initiative), AZT + Rifabutin (AIDS Initiative), 1-trans-delta-9-Tetrahydrocannabinol, Methylphenidate hydrochloride, AZT/Drug Combinations Transplacental/Neonatal Study, Triamterene, Chloral hydrate, Primidone (primaclone), Tenofovir Disoproxil Fumarate (TDF), Acetaminophen (4-hydroxyacetanilide), Pyrazinamide, Oxazepam, AZT + Isoniazid (AIDS Initiative), Elmiron (sodium pentosanpolysulfate), Barium chloride dihydrate, AZT + TMP/SMX (mixture) combination, 5,5-Diphenylhydantoin (phenytoin), Tricombination FTC:TDF:EFV (1:1.5:3), Simvastatin, Fenofibrate
Additional Research

Human Immunodeficiency Virus (HIV) Therapeutics

An estimated 35 million people worldwide are living with HIV. That number includes about one million pregnant women who need treatment to prevent mother-to-child transmission of the virus during pregnancy, labor, and delivery. Azidothymidine (AZT), the first FDA-approved anti-HIV agent, is often combined with other HIV drugs that target different aspects of viral replication. Because HIV drugs are administered in combination, NTP is studying commonly used combinations (AZT, nevirapine, nelfinavir, and/or lamivudine) to characterize any potential toxicity to the offspring.

The World Health Organization has recommended the triple combination of tenofovir (TDF), emtricitabine (FTC), and efavirenz (EFV) as standard therapy for all HIV-positive individuals. While there is great benefit from this therapy, potential toxicity for the offspring is not known.

NTP is conducting studies to determine the potential effect of the TDF, FTC, and EFV triple combination therapy on fetal and postnatal development. The results of these studies will inform regulatory agencies worldwide of the impact on these drugs during pregnancy.

Hydroxyurea

Hydroxyurea is a pharmaceutical which was originally approved for use in cancer chemotherapy. It is also currently used for treatment of sickle cell anemia and other rare, serious diseases.

Though hydroxyurea is not labeled for use in children with sickle cell anemia, clinical trials in infants and children have shown efficacy in preventing vaso-occlusive crises, a common complication of sickle cell anemia. Furthermore, off-label use in infants, children, and pregnant women with sickle cell anemia is increasing.

Published reports indicate that use of hydroxyurea can cause DNA damage and induce certain cancers. Limited human and animal data also indicate adverse effects on reproduction in males. Hydroxyurea has also been shown to cause birth defects.

In 2008, NTP published an NTP-CERHR Monograph on hydroxyurea which evaluated effects on reproduction and development. New studies have noted the importance of reviewing chronic use. NTP is conducting studies to determine the potential effect of chronic hydroxyurea exposure during periods of critical development ranging from gestational exposure through adolescence. The results of these studies can inform regulatory agencies and contribute to risk-benefit decision making and patient counseling.