Peer Review Evaluation Report: Oral Up-and-Down Procedure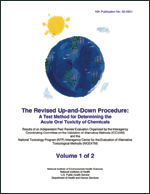 An independent scientific peer review meeting was held in July 2000 to evaluate the usefulness and validation status of the revised up-and-down procedure (UDP). NICEATM assembled available data on the revised UDP into a background review document, which was used by the Peer Review Panel to assess the method.
The Peer Review Panel met again for additional discussions via a public teleconference in August 2000.
The Revised Up-and-Down Procedure: A Test Method for Determining the Acute Oral Toxicity of Chemicals
(NIH Publication No. 02-4501 - November 2001)
Complete Report
Volume 1 (Main Body and Appendices A through E)
Volume 2 (Appendices F through Q)
Main Report Body
Appendix C: August 2001 Peer Panel Meeting Review Materials
Appendix D: Federal Register Notices for the UDP
Vol. 65, No. 34, February 18, 2000, Request for Data and Nomination of Expert Scientists
Vol. 65, No. 106, June 1, 2000, Notice of Peer Review Panel Meeting and Request for Comments
Vol. 66, No. 121, June 22, 2001, Notice of Availability and Request for Comments
Vol. 66, No. 133, July 21, 2001, Notice of Peer Review Panel Meeting
Appendix E: Summary Minutes and Public Comments from the UDP Meetings
Minutes and Public Comments of the Peer Review Panel Meeting, 07/25/2000 Crystal City, Arlington, VA
Minutes of the Peer Review Panel Meeting, 08/21/2001, Research Triangle Park, NC
Appendix J: Development of OECD 425
"Primary Procedure' for Point Estimation of the LD50
Appendix N: Proposed UDP Supplemental Procedure to Estimate Slope and Confidence Interval
Appendix O: The Basis for Revising the UDP
Appendix P: Selection of the Appropriate Animal Gender for the UDP
Appendix Q: U.S. Federal Regulations on Acute Toxicity