Bisphenol A Structural Analogues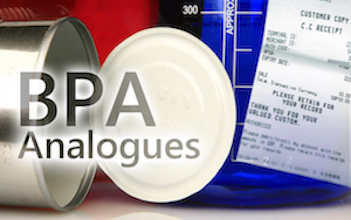 Recent studies report widespread exposure to a variety of chemicals with structural or functional similarity to bisphenol A (BPA), often referred to as BPA analogues or derivatives. BPA analogues have been detected in foodstuffs, house dust, river and lake sediment, personal care products, and thermal paper. Several chlorinated and brominated derivatives of BPA are used as flame retardants. Importantly, BPA analogues have also been detected in human biological specimens.
In contrast to BPA, most BPA analogues are poorly understood with respect to potential toxicity for humans. To better understand the potential toxicity of BPA analogues, NTP conducted an analysis with two parts:
A systematic review of available scientific literature for human, animal, and mechanistic toxicity of 24 BPA analogues
Analysis of the structural and biological similarity of the 24 BPA analogues with each other, BPA, and the potent estrogen estradiol, using data from NTP's high-throughput screening programs Tox21/ToxCast.
The findings from both components are summarized in a research report released in October 2017.
Documents
NTP Research Report

Preferred Citation: NTP (National Toxicology Program). 2017. Research Report on Biological Activity of Bisphenol A (BPA) Structural Analogues and Functional Alternatives. NTP Research Report 4. Research Triangle Park, NC: National Toxicology Program. https://doi.org/10.22427/NTP-RR-4

Protocol (August 2015)
Related Link