Mountaintop Removal Mining: Impacts on Health in the Surrounding Community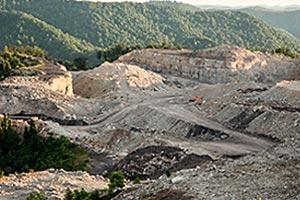 Mountaintop removal mining is the main method for extracting coal in the approximately 200 surface mines actively producing in the Central Appalachia region (KY, TN, WV, and VA). This mining method blasts off the top layer of a mountain to expose the underlying coal seam resulting in dust and fly-rock and necessitating disposal of the 'overburden' into spoil piles and of slurry into underground stores. Human health impacts in the communities surrounding these mines may arise from drinking contaminated groundwater, contact with contaminated streams, and inhalation of airborne chemicals and dust.
In January 2015, NTP received a nomination to review the potential health effects of mountaintop removal mining. In response, OHAT conducted a systematic review of published studies of mountaintop removal mining and community health, occupational studies of mountaintop removal mining, and any available animal and in vitro experimental studies to investigate the effects of exposures to mountaintop removal mining-related mixtures. The systematic review identified inconsistent results across a broad range of diverse health effects, with critical limitations in the study design of observational studies in communities impacted by mountaintop removal mining. Few experimental animal studies were identified, but the findings in these model organisms support the plausibility of adverse health outcomes. Studies measuring exposures from mountaintop removal mining found several individual contaminants previously associated with adverse health impacts, such as particulate matter in air.
Documents