Organotin & Total Tin Levels in Danish Women of Reproductive Age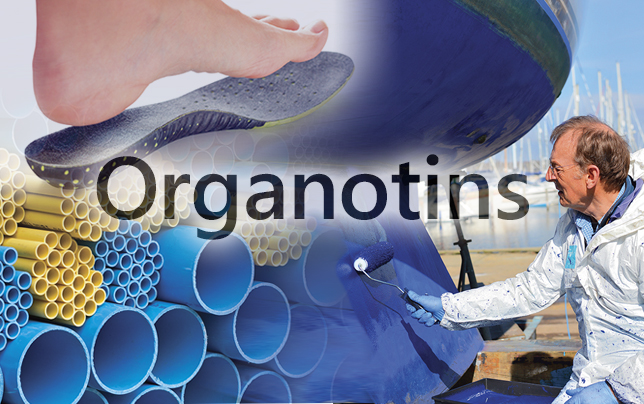 Topic Overview
Status: Evaluation completed
Background Information
Organotin compounds are organic derivatives of tin widely used in the plastics and communication industries as well as several agricultural applications. Although concerns for marine organism toxicity led to phase out of organotin-based antifouling agents in ship hull paints in early 2000s, tributyltin and several other organotins are present in marine environments and may bioaccumulate. Mono- and di-substituted organotins are used in a range of applications that could result in exposure from household and consumer products. These compounds often are used together as stabilizers in polyvinyl chloride plastics, which can be found in drinking water pipes, flooring and wall coverings, shower curtains, prints on t-shirts and other clothing, gloves, sandals, food packaging, toys, and other household items. Some organotins have been shown to produce endocrine disrupting effects in aquatic species and rodent models, raising concern for effects on human reproduction and development. Little is known about exposure levels in women of reproductive age.
NTP conducted a study to collect pilot data on organotin and total tin levels among Danish women of reproductive age. Organotins were not readily detected in serum or urine of Danish women. Total tin concentrations, which include organic and inorganic species, were also low, suggesting the results were not due to metabolism of the organotin to other tin compounds.
Documents
Documents for Organotin
Date
Document
Jul 01, 2016
NTP Research Report
Preferred Citation: NTP Research Report on Organotin and Total Tin Levels in Danish Women of Reproductive Age. Research Triangle Park (NC): National Toxicology Program. Natl Toxicol Program Res Rep Ser. 2016 Jul;(RR-02):1-27. https://doi.org/10.22427/NTP-RR-2
Note on Accessibility: Persons with disabilities or using assistive technology may find some documents are not fully accessible. For assistance, email us or use our contact form and identify the documents/pages for which access is required. We will assist you in accessing the content of these files. NIEHS has helpful information on accessibility.