Progestogens and Adverse Health Outcomes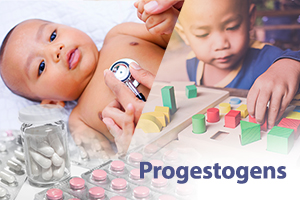 Topic Overview
Status: Evaluation completed
Background Information
Progesterone produced by the body is an important hormone for maintenance of pregnancy and other reproductive functions. Progestogenic drugs, known as progestogens, are a class of drugs that produce effects similar to the natural progesterone in the body; they include both bioidentical progesterone made from plants and synthetic forms. Progestogens are given to reproductive age women for a variety of reasons, including contraception, treatment of infertility, or treatment or prevention of miscarriage and preterm birth. Children born with a condition known as congenital adrenal hyperplasia, which includes ambiguous genitalia at birth, early puberty, infertility, and altered sex-specific behaviors, show an imbalance of progesterone with other hormones. Some case reports and case series have reported adverse reproductive outcomes (e.g., masculinization of female infants) in pregnant women treated with synthetic progestogens during the first trimester, and similar effects on reproductive development have also been observed in laboratory animal studies following in utero exposure to certain synthetic progestogens.
NTP developed a scoping review and evidence map of published scientific literature. The current body of evidence was not sufficient to recommend an evaluation of the potential health effects of prenatal exposure to progestogens due to differences in the health outcomes evaluated or inconsistencies in the results. Researchers can explore the health effects data related to prenatal exposure to progestogens using the interactive evidence maps. The scoping review also includes a summary of the reported conclusions in the literature for congenital malformations and neurological development.
Note on Accessibility: Persons with disabilities or using assistive technology may find some documents are not fully accessible. For assistance, email us or use our contact form and identify the documents/pages for which access is required. We will assist you in accessing the content of these files. NIEHS has helpful information on accessibility.