International Interactions
Frequent and transparent communication with international partners will ensure that development and evaluation of alternatives to animal testing are harmonized, where feasible, to account for international regulatory requirements. ICCVAM interacts with international counterparts primarily through two venues: the International Cooperation on Alternative Test Methods (ICATM) and the Test Guidelines Programme of the Organisation for Economic Co-operation and Development (OECD).
Translations of U.S. Strategic Roadmap Available
The Strategic Roadmap for Establishing New Approaches to Evaluate the Safety of Chemicals and Medical Products in the United States has been translated into Chinese, Japanese, Korean, Portuguese, and Spanish. The translated documents are available on the Strategic Roadmap webpage.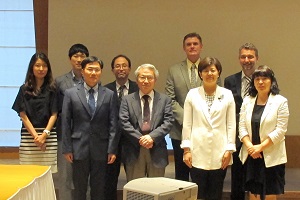 ICATM was created to foster dialog among national validation organizations. This dialog facilitates international cooperation in the critical areas of validation studies, independent peer review, and development of harmonized recommendations. ICATM includes member organizations from the European Union, United States, Japan, Canada, and South Korea. Brazil and China have been participating in ICATM since 2015 as observers.
An ICATM workshop in October 2018 focused on new approaches for validation of alternative test methods. Workshop participants considered lessons learned from past validation studies and reflected on the principles and practice of validation in the context of new tools and technology.
A 2016 ICATM workshop on skin sensitization produced the following work products:
A review of international requirements for skin sensitization testing
A position paper proposing practical ways to further promote the regulatory use and facilitate adoption of non-animal defined approaches for skin sensitization assessments
A proposal to develop a test guideline for defined approaches for skin sensitization, which was included in the OECD workplan in April 2017
ICCVAM member agencies participate in the development and national review of guidelines for the testing of chemicals issued by the OECD Test Guidelines Programme. OECD test guidelines are used by government, industry, and independent laboratories in the 36 member countries of the OECD to assess chemical safety. The OECD Mutual Acceptance of Data (MAD) clause entails that safety data generated using an OECD test guideline will be accepted by all the member countries, avoiding redundant testing.
The U.S. National Coordinator for the OECD Test Guidelines Programme, an ex officio member of ICCVAM, solicits and collates U.S. comments on draft test guidelines and other documents of the Test Guidelines Programme. The National Coordinator represents the United States at the annual meeting of the Working Group of National Coordinators and in other test guideline development activities. Beginning in 2018, the U.S. National Coordinator has been joined at this meeting by one or more ICCVAM members who are subject matter experts in topics planned for discussion at the meeting.