Sulfolane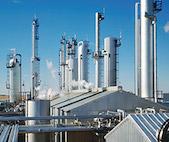 Research Overview
Status: Ongoing
Substances: Sulfolane
Nominated: September 2011
Background Information
Sulfolane is a highly water-soluble solvent commonly used for refining natural gas and petroleum and was found in contaminated groundwater and well water in North Pole, Alaska, near a petroleum refinery in 2009. Water contaminated with sulfolane also has been identified in other natural gas or petroleum refining sites.
Because it moves into groundwater, the potential for human exposure to sulfolane through drinking water is high. Exposure may also occur through inhalation or skin contact for those who work in industries using sulfolane.
NTP Studies & Findings
NTP is performing a set of studies to evaluate the toxicity of sulfolane.
What did the studies find?
See the table below for the most up-to-date information on the variety of projects taking place at NTP.
List of sulfolane studies
Study
Description
Status
Findings & Supporting Files
Absorption, distribution, metabolism, and excretion
Animal studies to investigate how well sulfolane was absorbed into the body, where it circulated in the body, and how it was cleared following oral administration and skin application.
Completed
Findings:

In male and female rats and mice, sulfolane was well absorbed when given orally; the dose showed up in high amounts in the circulatory system when a high dose was administered orally
Sulfolane applied to the skin was absorbed more readily in mice than in rats
Sulfolane was eliminated rapidly, with urine as the main excretion route in both rats and mice of both sexes

Supporting files:

28-day toxicity study
Studies in multiple animal species to determine species sensitivity.
Completed

Supporting files:

Subchronic toxicity study
Three-month studies to identify effects on various endpoints, including development and reproduction in rats and mice.
Ongoing
N/A
Chronic toxicity study
Studies to determine the effects of long-term exposure on rats and mice, including any potential carcinogenic effects.
Ongoing
N/A
Immunotoxicity study
Rat and mouse studies to determine the potential of sulfolane to effect immune system function.
Completed

Supporting files:
Research at Other Agencies
United States

Alaska
US Environmental Protection Agency: National Center for Environmental Assessment
US Centers for Disease Control and Prevention: Agency for Toxic Substances and Disease Registry
Informational Resources
Nominations
Presentations
Stay Informed & Contact Us
Stay Informed
Subscribe to receive email to stay informed about sulfolane research and other NTP information.
Contact Us
For questions or additional information, email us or use our contact form.