History of the Report on Carcinogens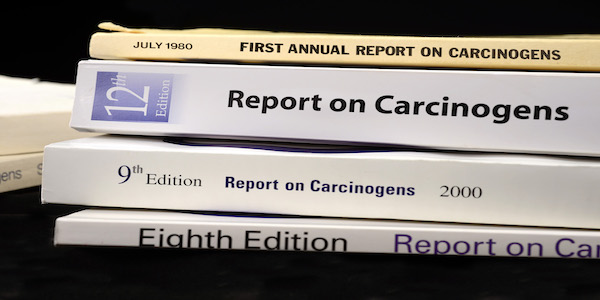 Key Milestones
1978
Section 301(b)(4) of the Public Health Service Act, as amended, requires that the Secretary of the Department of Health and Human Services (DHHS) publish a report that identifies substances that pose a cancer hazard for people in the United States. The Report on Carcinogens (RoC) lists:
All substances that are known to be human carcinogens or may reasonably be anticipated to be human carcinogens; and
All substances to which a significant number of US residents are exposed.
1980
First RoC published
1993
Annual requirement for report changed to biennial
Historical Highlights of the Report on Carcinogens Criteria Listing Review Process
Since the RoC's inception in 1978, NTP has used scientifically rigorous processes and established listing criteria to evaluate substances for the RoC. The Board of Scientific Counselors (BSC) and the public have provided input leading to several evolutions of the RoC review process and listing criteria.
Pivotal Public Events
Schematic
The following schematic describes the key elements of the RoC listing criteria and the review processes used for specific editions of the RoC. An accessible version of the schematic is also available.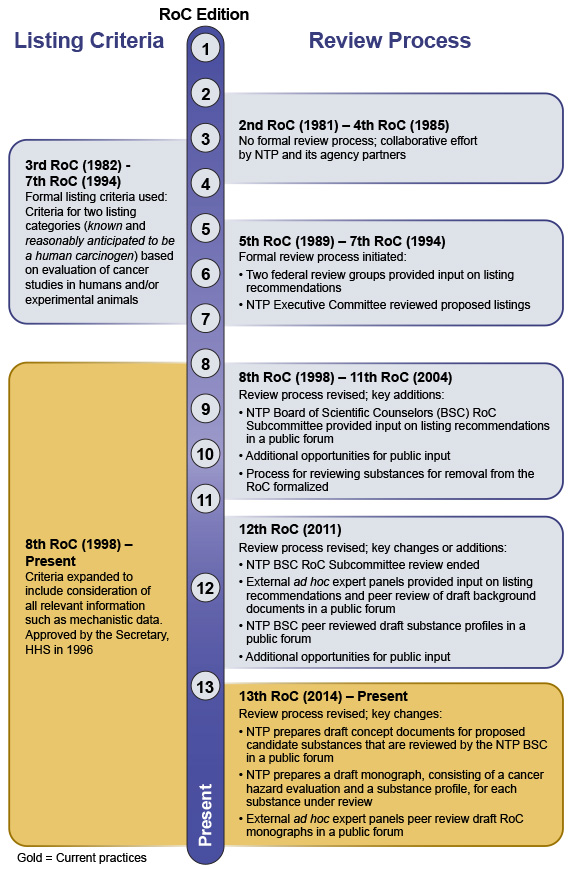 Narrative Describing Report on Carcinogens Schematic
The schematic shows the listing criteria and the review process.
Listing Criteria
3rd Report on Carcinogens (1982) – 7th Report on Carcinogens (1994)
Formal criteria for two listing categories (known and reasonably anticipated to be a human carcinogen) based on evaluation of cancer studies in humans and experimental animals.
8th Report on Carcinogens (1998) – Present
Criteria expanded to include consideration of all relevant information such as mechanistic data. Approved by the Secretary, HHS in 1996.
Review Process
2nd Report on Carcinogens (1981) – 4th Report on Carcinogens (1985)
No formal review process: Collaborative effort by NTP and its interagency partners.
5th Report on Carcinogens (1989) – 7th Report on Carcinogens (1994)
Formal review process established.
Two federal scientific review committees established:

NIEHS/NTP Scientific Review Committee
Interagency Scientific Review Committee

NTP Executive Committee review added
8th Report on Carcinogens (1998) – 11th Report on Carcinogens (2004)
External scientific and public inputs added:
NTP Board of Scientific Counselors (BSC) Report on Carcinogens Subcommitee established: External review in a public forum
Formal process for delisting a substance from the Report on Carcinogens
Opportunities for additional public input throughout the process
12th Report on Carcinogens (2011)
Process revised to:
NTP BSC Report on Carcinogens Subcommitee ended
Ad hoc expert panel convened in public forum: Input on listing recommendation and peer review of draft background document
NTP BSC: Peer review of substance profile in public forum
13th Report on Carcinogens (2014) - Present
Process revised to:
NTP develops a concept document for each proposed candidate substance that is shared with public and reviewed by the NTP BSC in a public forum
NTP prepares a Report on Carcinogens monograph for each substance that includes the cancer hazard evaluation, listing recommendation, and the substance profile
Ad hoc review panel conducts external peer review of each Report on Carcinogens draft monograph in a public forum