Strategic Roadmap: Contributors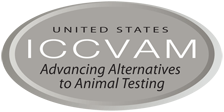 ICCVAM is comprised of members from the following agencies:
Agency for Toxic Substances and Disease Registry
National Cancer Institute
National Institute for Occupational Safety and Health
National Institute of Environmental Health Sciences
National Institute of Standards and Technology
National Institutes of Health
National Library of Medicine
Occupational Safety and Health Administration
U.S. Consumer Product Safety Commission
U.S. Department of Agriculture
U.S. Department of Defense
U.S. Department of Energy
U.S. Department of the Interior
U.S. Department of Transportation
U.S. Environmental Protection Agency
U.S. Food and Drug Administration
Supplemental materials for some events, meetings, and workshops prior to 2019 have been archived. These archived materials frequently include presentations, background materials, and public comments. Email us or use our contact form to request a list or copy of archived materials.
Interested persons were invited to provide input on the roadmap development between March and September 2017. Three public meetings in 2017 provided opportunities for comment:
ICCVAM Public Forum, National Institutes of Health, Bethesda, MD, May 23, 2017
NTP Board of Scientific Counselors Meeting, NIEHS, Research Triangle Park, NC, June 29, 2017
Scientific Advisory Committee on Alternative Toxicological Methods Meeting, National Institutes of Health, Bethesda, MD, September 18-19, 2017
Comments Received for the Strategic Roadmap
Humane Society of the United States (September 18, 2017)
Center for Responsible Science (September 15, 2017)
North American 3Rs Collaborative (September 12, 2017)
People for the Ethical Treatment of Animals (September 11, 2017)
Syngenta Crop Protection LLC (August 31, 2017)
Yves Alarie (August 26, 2017)
Cardinal Health (July 19, 2017)
Physicians Committee for Responsible Medicine (May 12, 2017)
People for the Ethical Treatment of Animals (May 12, 2017)
Christine Rowen (May 11, 2017)
Geoff Daly (May 9, 2017)
Jan Elbert (May 9, 2017)
Calvin Willhite (March 31, 2017)