Alternative Approaches for Acute Inhalation Toxicity Testing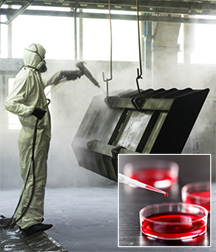 Webinar Series and Workshop
A poster summarizing this webinar series and subsequent workshop (Allen et al.) was presented at the Tenth World Congress on Alternatives and Animal Use in the Life Sciences in August 2017.
Webinar Series
Slides and recordings for all webinars in the series are available on the PETA International Science Consortium website
Acute systemic toxicity tests identify chemicals that could cause illness or death after a single exposure. Webinars in this 2016 series explored and discussed alternative approaches that could replace, reduce, or refine the use of animals for identifying chemicals that may cause acute systemic toxicity when inhaled.
Participants in this webinar series
Reviewed the regulatory guidelines to define when and how acute systemic toxicity data are used for assessing inhalation toxicity hazard potential
Reviewed existing alternative approaches for identifying chemicals likely to cause acute systemic toxicity via inhalation, which could include mechanism-based models, in vitro, and in silico approaches
Identified mechanisms of acute toxicity that may constitute key events in adverse outcome pathways for acute inhalation toxicity
The webinar series steering committee was comprised of members from government and nongovernment stakeholder organizations including NICEATM, PETA International Science Consortium Ltd., The Dow Chemical Company, Simulations Plus, Inc., the Netherlands Organisation for Applied Scientific Research, and the U.S. Environmental Protection Agency (EPA).
Federal Register notice announcing the webinar series (March 18, 2016) — View as a webpage
Webinar Topics and Speakers

Webinar 1: Tuesday, March 29
Current Testing Practices: Regulatory Requirements and Non-regulatory Testing
Speakers: Jon Hotchkiss, Ph.D., The Dow Chemical Company; Ian Indans, United Kingdom Chemicals Regulation Directorate
PubMed abstract of Sewell et al. (2015) paper on "evident toxicity" mentioned in webinar

Webinar 2: Tuesday, April 26
State-of-the-science, Practical Application, and Dosimetry Considerations for In Vitro and Ex Vivo Methods
Speakers: Marianna Gaca, Ph.D., British American Tobacco; Annie Jarabek, Ph.D., EPA

Webinar 3: Thursday, May 26
State-of-the-science and Practical Application of In Silico Methods
Speakers: Grace Patlewicz, Ph.D., EPA; Dan Wilson, Ph.D., The Dow Chemical Company

Webinar 4: Tuesday, June 28
GHS Additivity Approach to Classify Mixtures Based on Ingredient Toxicity
Speaker: Marco Corvaro, Ph.D., Dow AgroSciences

Webinar 5: Tuesday, July 12
Adverse Outcome Pathways
Speakers: Mathieu Vinken, Ph.D., Free University of Brussels, Belgium; Barbara Buckley, Ph.D., EPA

Webinar 6: Thursday, September 8
21st Century Testing Approaches
Speakers: Kelly BéruBé, Ph.D., Cardiff University; Dan Huh, Ph.D., University of Pennsylvania
Workshop
More than 40 scientists from international regulatory agencies, academia, nongovernmental organizations, and industry attended a workshop organized to develop recommendations for advancing new approaches for acute inhalation toxicity testing.
The workshop discussions yielded the following conclusions:
Currently accepted guidelines for inhalation toxicity tests share core principles. These inform both essential testing needs to be addressed by alternative approaches and opportunities for existing information to enable waivers of required testing.
Additivity approaches may be useful for estimating toxicity of mixtures.
A variety of available alternative test methods can reliably identify potential cytotoxicants, but none can single-handedly assess the multiple mechanisms of acute systemic toxicity following inhalation exposure. Applying multiple path particle dosimetry may be helpful for estimating inhalation toxicity.
A number of promising in vitro systems exist. Integrated approaches to testing and assessment will be needed to use these systems in ways that address the breadth of mechanisms, ensure good coverage of the relevant chemical landscape, and leverage the collective strengths of these methods and complementary non-testing approaches.
To realize success, input will be needed from industrial sectors, academic disciplines, federal agencies, stakeholder organizations, and international partners.
Working groups were established to address the four primary workshop recommendations:
Develop a database of acute inhalation toxicity data
Prepare a state-of-the-science review on mechanisms and assays for acute inhalation toxicity
Develop an in silico decision tree for determining when acute inhalation testing should be performed
Optimize in vitro assays and standard protocols to be used across laboratories
A manuscript describing the outcomes of the workshop is in preparation for publication in 2018.