Traffic-Related Air Pollution and Children's Health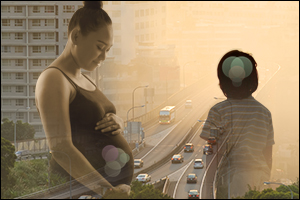 Traffic-related air pollutants are emitted by cars, trucks, buses, and "non-road" equipment (e.g., recreational vehicles or lawn equipment) from the burning of fossil fuels. Traffic-related air pollution contributes significantly to outdoor air pollution, especially in urban settings.
Children are especially sensitive to air pollution, and there is increasing evidence that exposure to traffic-related air pollution (TRAP) may impact pregnancy outcomes and child development. NTP is currently conducting a systematic review to evaluate the evidence for an association between exposure to TRAP and hypertensive disorders of pregnancy.
Hypertensive disorders of pregnancy complicate more than 10% of pregnancies worldwide and are a leading cause of maternal and fetal morbidity and mortality. These disorders are defined by hypertension (blood pressure > 140/90 mmHg), usually during the second half of pregnancy, and range in severity from hypertension alone to multi-organ dysfunction and seizures in the mother. Infants born to mothers with hypertension during pregnancy are at higher risk for preterm delivery, low birthweight, being small for gestational age at birth, and an array of prematurity-related neonatal disease that can have long-term effects.
The original July 2012 nomination requested that NTP evaluate emerging children's health issues associated with outdoor air pollution; however, the scope was narrowed to focus on TRAP and hypersensitive disorders of pregnancy due to: 1) evidence of the negative effect of hypertension in pregnancy on children's health, and 2) a number of recent studies assessing hypertensive outcomes in pregnant women exposed to TRAP. The original protocol also included a separate review of TRAP and neurological disorders, but this topic is currently under review by other organizations.
The draft monograph evaluates the evidence that exposure to TRAP is associated with hypertensive disorders of pregnancy. TRAP is characterized by pollutant measurements (e.g., particulate matter ≤ 2.5 µm in diameter and oxides of nitrogen) and direct traffic measurements (e.g., distance to main roads and traffic volume).
Documents