NTP Archives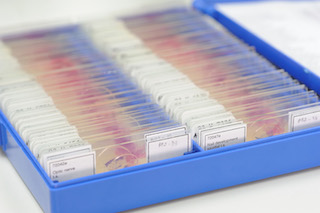 The NTP Archives is a repository for specimens and data collected from over 2,000 NTP rodent studies. As a recognized world leader in toxicologic pathology, NTP carefully preserves its study collections, educational material, and training material on rodent pathology. Materials in the collection can be viewed or used by researchers in their work. Available materials include:
histological glass slides
formalin-fixed, paraffin-embedded (FFPE) tissue blocks
formalin-fixed wet tissue
frozen tissue
digital images
study associated data and metadata
These materials come from NTP short-term and long-term carcinogenicity and toxicology studies as well as studies designed to test the effects of substances on reproduction, development, and immune function. These materials can be used for retrospective research to characterize and compare diverse diseases or disease processes.
For questions, and additional information, contact:
Ron A. Herbert, DVM, Ph.D.
P.O. Box 13566
Research Triangle Park, NC 27709
Email: herbert1@niehs.nih.gov
Telephone: 919-541-4613