4th International Symposium on Systematic Review and Meta-Analysis of Laboratory Animal Studies
August 24-25, 2017
Location: Rodbell Auditorium, David P. Rall Building, NIEHS, Research Triangle Park, North Carolina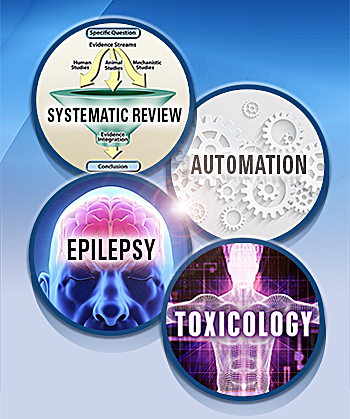 The role of systematic review and meta-analysis in preclinical science, toxicology, and public health is evolving rapidly and these changes were reflected in the meeting themes. The symposium, for newcomers and experts alike, included strategic overviews and explicit examples of how systematic review approaches are applied and methods are evolving to answer a diverse range of research questions.
Themes at this symposium included:
Systematic Reviews or Meta-Analyses in Toxicology and Public Health (Keynote: Tracey Woodruff, UCSF)
Automation of Systematic Reviews (Keynote: Byron Wallace, Northeastern University)
Systematic Review/Meta-Analysis Methods Development (Keynote: Kim Wever, SYRCLE)
Systematic Reviews or Meta-Analyses in Epilepsy and Other Human Diseases (Keynote: Michele Simonato, University of Ferrara)
Meeting Materials
Systematic Review Instructional Training
Instructional training in systematic review methods was offered prior to the symposium on August 23, 2017. The organizing committee planned a systematic review instructional training day for individuals that were new to the field and looking to learn more on the use of systematic review methods for animal studies or toxicology.
Organizing Committee
The symposium was organized by the National Toxicology Program (NTP) at the National institute of Environmental Health Sciences (NIEHS), Collaborative Approach to Meta-Analysis and Review of Animal Data from Experimental Studies (CAMARADES), Environmental Protection Agency/National Center for Environmental Assessment/Integrated Risk Information System (EPA/NCEA/IRIS), University of Tasmania School of Medicine, UCSF Navigation Guide, Systematic Review Centre for Laboratory Animal Experimentation (SYRCLE), and the Evidence-Based Toxicology Collaboration (EBTC).
Other Logistical Information
For questions regarding the symposium, please contact Canden Byrd, ICF contractor to NTP, at SR-MeetingSupport@icf.com or by phone at 919-293-1660.
Technical Questions
For technical questions about the symposium, please contact:
Andrew A. Rooney, Ph.D.
Acting Director, OHAT
NIEHS/NTP
Phone: (919) 541-2999
Email: Andrew.Rooney@nih.gov
Vickie Walker
Health Scientist, NTP – OHAT
NIEHS/NTP
Phone: (919) 541-4514
Email: Vickie.Walker@nih.gov