ICCVAM Public Forum: May 2018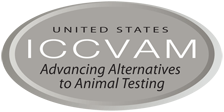 May 24, 2018
William H. Natcher Conference Center
National Institutes of Health
Bethesda, Maryland, USA
ICCVAM's goals include promotion of national and international partnerships between governmental and nongovernmental groups, including academia, industry, advocacy groups, and other key stakeholders. To foster these partnerships ICCVAM holds annual public forums to share information and facilitate direct communication of ideas and suggestions from stakeholders.
At this meeting, nearly 40 attendees and about 60 webcast viewers heard presentations by ICCVAM members on current activities related to the development and validation of alternative test methods and approaches. ICCVAM member agencies providing updates on activities included FDA, EPA, DoD, USDA, DOI, NIST, and NIH. Suzanne Fitzpatrick, FDA, and Gino Scarano, EPA, described strategic plans developed by their agencies to promote the use of non-animal methods, while Rick Paules, acting chief of the NTP Biomolecular Screening Branch, described the updated Tox21 strategic plan and goals for the program's next five years.
A main focus of this meeting was implementation of the strategic roadmap for establishing new approaches to evaluate the safety of chemicals and medical products in the United States. NICEATM Deputy Director Nicole Kleinstreuer summarized ongoing implementation activities in the areas of skin sensitization and acute systemic toxicity, while Jill Merrill, FDA, described activities relevant to skin and eye irritation testing. Public comments submitted to the meeting focused largely on the strategic roadmap. Commenters offered suggestions on specific actions that should be taken to advance the goals of the strategic roadmap, and encouraged agencies that have been less active in ICCVAM activities to take a greater role.
Presentations

Welcome from ICCVAM Co-chairs

Anna Lowit, EPA and Emily Reinke, DoD

U.S. Strategic Roadmap for Alternative Approaches

International Activities: Nicole Kleinstreuer, NIEHS

FDA Updates

Tox21 Update: Richard Paules, NIEHS

EPA Updates

Other Agency Updates

Department of Defense: Emily Reinke, DoD

Department of Agriculture: Carol Clarke, USDA

Department of the Interior: Barnett Rattner, DOI

National Institute of Standards and Technology: Elijah Petersen, NIST

National Institutes of Health: Warren Casey, NIEHS
Public Comments

People for the Ethical Treatment of Animals (May 11)

Physicians Committee for Responsible Medicine (May 11)

White Coat Waste Project/New England Anti-Vivisection Society (May 17)
Supplemental documentation

The Humane Society of the United States (May 24)