Toxicology/Carcinogenicity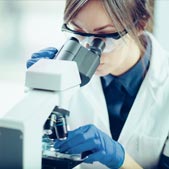 Study Overview
Study: Short-term toxicity, long-term carcinogenicity
Species: Rats, mice
Micronucleus Test
The testing protocol contains more information. Detailed explanations of the micronucleus assay methods and cell scoring are also available.
Overview
The erythrocyte micronucleus test examines the ability of substances to cause chromosome damage in developing red blood cells inside bone marrow. A micronucleus (literally, "little nucleus") is a biomarker of structural chromosome damage (e.g., breaks) and changes in chromosome number (e.g., chromosome loss). If a chromosome is broken or fails to migrate properly with other chromosomes during cell division, the broken piece or lost chromosome will form a small (micro) nucleus of its own in one of the two daughter cells produced. Detection of chromosomal damage is important because it has been linked to birth defects, infertility, and certain diseases, including cancer.
The micronucleus test is performed in rapidly dividing cell populations, and bone marrow is a site of rapid blood cell division. Both bone marrow and peripheral blood samples can be examined for the presence of micronuclei in red blood cells.
Methodology
Animals are treated with a test substance once or daily over a period of time, and the frequency of micronucleated cells is determined 24–48 hours after the final treatment, depending on the source of the cells (bone marrow or blood) that are examined and the treatment regimen. If treated animals show significantly higher frequencies of micronucleated red blood cells than untreated animals, the test substance is considered capable of causing chromosomal damage.
Bone Marrow Tests

The test subjects are rodents (rats or mice) that are exposed to the test substance, usually by oral gavage or injection. Typically, one to three daily treatments of the test substance are administered over a range of doses; the highest dose tested is near the maximum tolerated dose. Groups of negative and positive control animals are included for each test. Bone marrow samples are obtained from all animals 24 hours after the last treatment, and red blood cells are examined for the presence of micronuclei.

Peripheral Blood Tests

Micronucleus tests are performed on male and female rodents that are exposed to the test substance orally, dermally, or by inhalation in subchronic (e.g., 28 or 90 days) or short term (e.g., 48–72 hours) toxicity studies. 24 to 48 hours after the final exposure, peripheral blood samples are obtained and red blood cells are examined for the presence of micronuclei. Samples may be examined using standard slide scoring procedures or automated flow cytometric approaches. Since 2007, NTP has routinely relied on flow cytometry to evaluate the frequency of micronucleated cells in peripheral blood.

Peripheral blood micronucleus assays are typically integrated into all NTP toxicity studies, and they also lend themselves to serial monitoring of micronucleus frequencies over time, since blood samples can be obtained without the need to sacrifice the animals.
Analysis
Blood or bone marrow samples from treated animals are compared to samples from untreated animals. With the slide-based approach for data acquisition, 1000–2000 cells were scored per animal. Using flow cytometric procedures to evaluate blood samples, 20,000 immature red blood cells and around one million mature red blood cells are examined per animal, resulting in a marked increase in the ability to detect small changes in the frequency of micronucleated red blood cells. The data is analyzed using statistical methods to determine if there is a significant increase in the frequency of cells containing micronuclei. Both dose-related responses and the magnitude of response for each independent dose group are considered during the evaluation of the data. For a positive test, both a significant dose response (trend) and at least one significant dose group are required. If only one of these measures is present, the test is determined to be questionable. The absence of either condition results in a negative test. The final conclusions for micronucleus tests are determined by considering the results of statistical analyses, reproducibility of any observed effects, and the magnitude of the effects. Ultimately, both the biological significance as well as statistical significance is considered when reaching a final conclusion.
Clinical Laboratory Studies
Clinical measurements taken on laboratory study animals provide an important contribution to the overall evaluation of their physiology. Clinical pathology tests often provide information useful for determining the biological significance of findings in toxicity studies not detected by direct examination of organs and tissues.
NTP developed a standard approach for clinical pathology investigations that was integrated into most toxicity studies designed and conducted after 1986. Protocols for these studies include a core set of specific hematology and clinical chemistry analyses selected to permit the evaluation of a variety of organ systems at three different time points in 13-week studies. However, use of a core set does not preclude the inclusion of other clinical pathology tests in a study.
Requirements concerning the anesthetization of animals, collection and analysis of samples, and reporting of results have been established to control sources of variability within and between contract laboratories that perform these studies for NTP.
Clinical measurements include:
Hematology:

Erythrocyte count
Mean corpuscular volume
Hemoglobin
Packed cell volume
Mean corpuscular hemoglobin
Mean corpuscular hemoglobin concentration
Erythrocyte morphologic assessment
Leukocyte count
Leukocyte differential
Reticulocyte count
Platelet count and morphologic assessment

Clinical Chemistry:

Sorbitol dehydrogenase (SDH)
Alkaline Phosphatase (ALP)
Creatine Kinase (CK)
Creatinine
Total Protein
Albumin
Urea Nitrogen (BUN)
Total Bile Acids
Alanine Aminotransferase (ALT)
Glucose
Cholesterol
Triglycerides
Histopathology List
Tissues examined:
Adrenal glands
Brain (3 sections including frontal cortex and basal ganglia, parietal cortex and thalamus, and cerebellum and pons)
Clitoral glands
Esophagus
Eyes
Femur, including diaphysis with marrow cavity and epiphysis (femoral condyle with epiphyseal cartilage plate, articular cartilage and articular surface)
Gallbladder (mouse)
Gross lesions
Harderian glands
Heart and aorta
Intestine, large (cecum, colon, rectum)
Intestine, small (duodenum, jejunum, ileum)
Kidneys
Larynx (inhalation studies)
Liver (2 sections including left lateral lobe and median lobe)
Lungs and mainstem bronchi
Lymph nodes

mandibular and mesenteric
bronchial & mediastinal (inhalation studies)

Mammary gland with adjacent skin
Muscle, thigh (only if neuromuscular signs were present)
Nasal cavity and nasal turbinates (3 sections)
Ovaries
Pancreas
Parathyroid glands
Pituitary gland
Preputial glands
Prostate
Salivary glands
Seminal vesicle
Skin, site of application (dermal studies)
Spinal cord and sciatic nerve (if neurologic signs were present)
Spleen
Stomach (forestomach and glandular)
Testes with epididymides
Thymus
Thyroid gland
Tissue masses
Trachea
Urinary bladder
Uterus
Necropsy List
A complete gross necropsy is an external examination of the animal including body orifices and examination and fixation of all of the following organs/tissues from animals from all treatment groups for histopathologic examination.
Adrenal glands
Brain
Clitoral glands
Esophagus
Eyes
Femur
Gallbladder (mouse)
Gross lesions
Harderian glands
Heart and aorta
Intestine, large (cecum, colon, rectum)
Intestine, small (duodenum, jejunum, ileum)
Kidneys
Liver
Lungs and mainstem bronchi

mandibular and mesenteric
bronchial mediastinal (inhalation studies)

Mammary gland with adjacent skin
Muscle, thigh
Nerve, sciatic
Nasal cavity and nasal turbinates
Oral cavity, larynx, and pharynx
Ovaries
Pancreas
Parathyroid glands
Pituitary gland
Preputial glands
Prostate
Salivary glands
Seminal vesicles
Skin, site of application (dermal studies)
Spinal cord
Spleen
Stomach (forestomach and glandular)
Testes, epididymides, and vaginal tunics of testes
Thymus
Thyroid gland
Tissue masses
Tongue
Trachea
Urinary bladder
Uterus
Vagina
Zymbal glands